At 9:00 on April 27, Beijing time, the 23rd Shandong International Water Exhibition in 2021 was grandly opened in Jinan Shandong International Convention and Exhibition Center.
The leading team of Shandong Dahu new materials Co., Ltd. attached great importance to the exhibition. The deputy general manager of the technology production center came to the scene and appeared with the main products of Dahu, such as circulating water, reverse osmosis, sewage treatment and monomer. (booth 5h21), the Great Lakes booth has attracted countless exhibitors, with an endless stream of customers and a large number of people.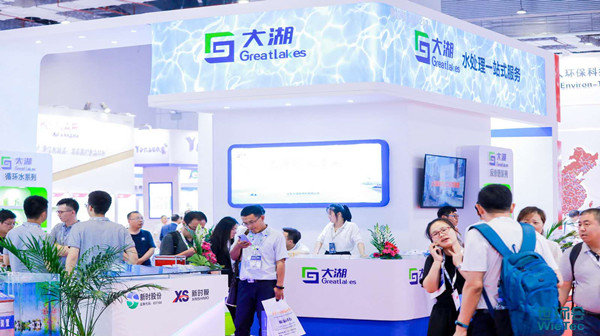 Our company's circulating water series products are made by using the world's most advanced high-throughput combined chemical technology and compounding a variety of components, including circulating water corrosion and scale inhibitor, scale inhibitor dispersant, bactericide and algaecide, slime stripping agent, cleaning agent, pre membrane agent and other products of different types and uses.
Secondly, reverse osmosis series includes reverse osmosis scale inhibitor, membrane cleaning agent, membrane non oxidizing bactericide and membrane flocculant. In addition, the exhibition also exhibited the characteristic products of sewage series, such as polyacrylamide, polyaluminium chloride, decolorizer, COD remover and grey water dispersant of grey water series.
During the exhibition, Great Lakes staff always communicated with exhibitors with full enthusiasm and patience to explain the characteristics and advantages of products in detail for customers, which aroused great interest of customers and was unanimously recognized by customers. Many customers expressed strong desire for cooperation on site and consulted relevant on-site investigation and signing matters.
Great Lakes integrates R & D, production, sales and service, focusing on one-stop solution services in the fields of ecological restoration, industrial water treatment, pulverized coal gas and coal water slurry, sewage treatment and so on. Welcome new and old customers to negotiate work!