Project Name: circulating water conservation and transportation project of a A-share listed enterprise in Qinghai
Circulating water volume: 200000m 3/ h
Water holding capacity: 10000m 3
Industrial water source: a city industrial water source
Water quality: the water quality is mainly characterized by high chloride ion, conductivity and alkalinity
Service time: since 2013
System operating conditions:
Dosing scheme:
Chemical name

model

dosage(mg/l)

Dosing mode

Scale and corrosion inhibitor

GL-5118

120

Continuous dosing

Non oxidizing bactericide

GL-9889

80

Clay stripping agent

GL-6511

100

Acid cleaning agent

GL-520

80

circulating water prefilming abent

GL-1001

80
Operation data: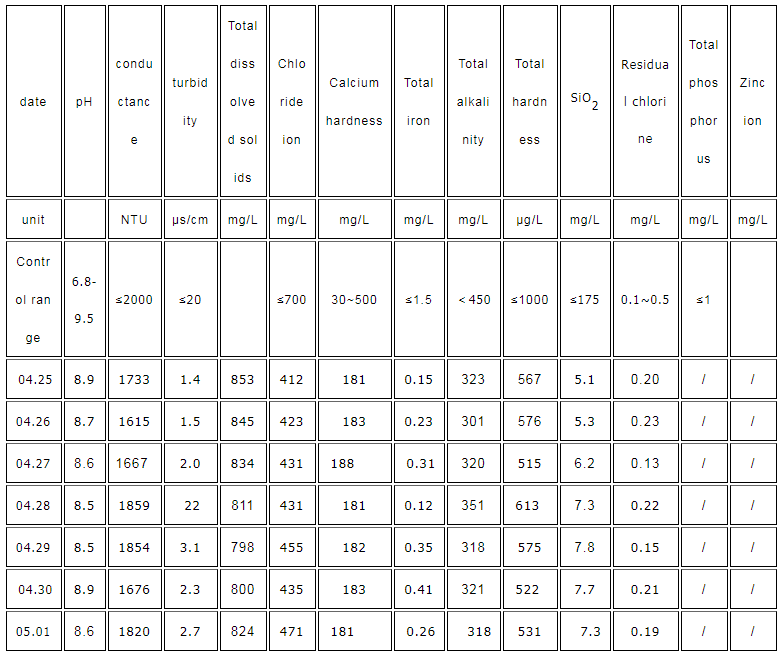 Project operation effect
The system was handed over to our company in 2013 and has been in operation for nearly a decade. With the joint efforts of both parties, the water quality of the circulating water system operates stably during the operation guarantee period, there is no obvious scaling and corrosion on the inner wall of the heat exchanger, and there is no microbial breeding in the cooling tower, which effectively reduces the risk of scaling and pollution blockage of the system and ensures the stable and normal operation of the system. It greatly reduces the large cost of system cleaning, maintenance and replacement of heat exchanger, and has been unanimously recognized by the workshop and branch factory.
Real scene